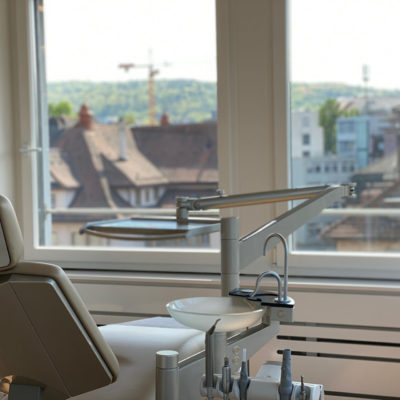 We offer you the best possible orthodontic treatment. Feel at home in a comfortable and pleasant atmosphere. Located over the rooftops of Oerlikon, our Practice is a 2-minute walk from the train station. A friendly and experienced personnel will welcome you at the reception area.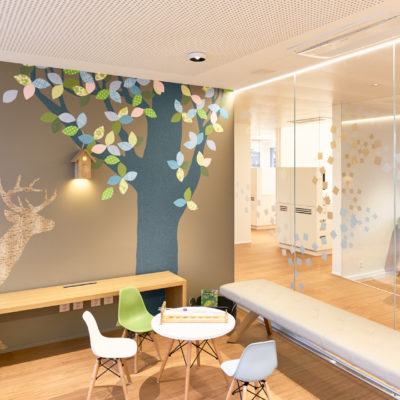 Two separate, enjoyable waiting rooms for adults and families will make you feel at ease and relax.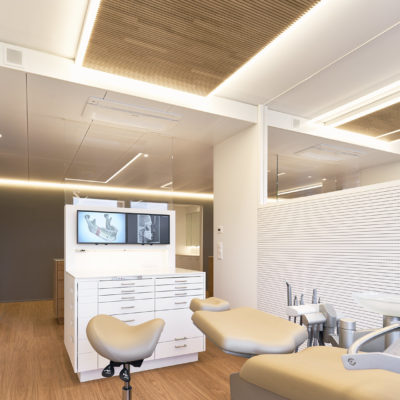 Following the actual medical hygienic standards, digitally equipped and with a light separation from each other with respect to privacy, our elegant treatment rooms guarantee a stress-free, relaxing experience.
Adding the most up-to-date technology to the experience of the past…
The KIEFERORTHOPÄDISCHES ZENTRUM Oerlikon was founded in 1980 by three orthodontists- colleagues. Dr. P. Golland, Dr. R. Haubensak and Dr. U. Schenker and have successfully run their Practice for more than four decades. Today, more than forty years later, we enjoy the trust of our predecessors and keep running this continuously growing and developing Practice together with Dr. R. Haubensak.  The members of the new orthodontic team are Dr. Eve Ziegler-Gutjahr, Dr. Jörg Thormann, Dr. Olga Annousaki Thormann and Dr. Stefano Troiani.
Our Team of professionals also includes an Oral surgeon Dr. O. Keller, three Dental Hygienists and three Prophylaxis Assistants. Thus, we can provide our patients with an optimized and efficient service. We are working in a close contact to the family or school dentist, to ensure the most effective orthodontic treatment.
We listen to the patients' individual needs and wishes and offer them the best possible treatment in a professional and scientific way.  There is no greater compliment than having the joy to see our past patients grown, coming back, trusting us with the orthodontic treatment of their own children. In 2018, we moved our office to a new location. We are very pleased to offer you not only a visibly beautiful practice, but also a fully digitalized and competent Orthodontic Centre.